Gosh – I started writing this post in May 2020 but still haven't finished it. I've started getting emails from total strangers asking for updates so I really must get on…
Hi! It's been a while since I've written. again. The WhatsApp group is working quite nicely for little intermittent updates and the odd friendly message of support so thanks if you joined in – I appreciate it. If you'd like me to add you to the group just send me a message and I'll pop you on. It's not too exciting but means I'm able to send out mini-updates as things go along.
So since I last wrote, I completed the radiotherapy treatment at The Rutherford in Newport. I actually had quite a nice time, it was a bit like a holiday! I went down on a Monday morning (thanks for the lifts guys!) hung out in an airbnb all week with various friends for company (loads of fun!) then came home after treatment on a Friday (thanks for all the lifts again!). I did a lot of cycling around Newport which I really enjoyed, it's lots of fun to be in the city again. I remembered why I like the city so much – there are so many people and so many colours, everyone is different – I never feel like the odd one out in a city. That's quite relaxing in it's own way.
Then…. everything went a bit tits up didn't it?! Radiotherapy, Chemotherapy and Coronavirus. All at once.  I'm aware that Coronavirus was a thing whilst I was in Newport. At the Clinic, they'd printed off a notice on A4 paper and stuck it on the doors "please inform reception if you've recently visited China" it said, feels very flippant now.  Retrospectively I'm quite relieved to have finished the radiotherapy before it all kicked off properly, I think it would have been quite disruptive if it had been a few weeks later.  A Bad thing happened though. Dee and I had really carefully planned a big holiday to sit in between Radiotherapy and Chemotherapy. We were due to go on a lovely cruise with Ivy to Spain & Portugal. That didn't happen, we were sad but somewhat relieved, a cruise would have been a fairly risky thing.   I'm still a bit sad now, it really would have been a nice break. One day, if P&O eventually give us our money back, we'll go on holiday. I'm having a little daydream now…..
So fast forward a bit. Chemo was scheduled to start right after the cruise in late March.  There was a whole lot of contemplating whether or not it's a sensible to move myself from regular, relatively low risk 38 year old group into the "very vulnerable / going to die if I catch it" group. I can't remember how up to date I am on sharing news but I was happy to ditch the North Wales Cancer Centre, I really didn't want to go there. Turns out, I'm able to receive my treatment much closer to home, in Aberystwyth. It feels a bit lacking that the system was not in place for me to go there to start with but heyho, it's all worked out in the end. And having to make 4-weekly trips to Aber was actually a treat because otherwise, for most of the year, it wouldn't have been legal for us to see the sea! My consultant at the Rutherford was happy to bounce me into his Swansea NHS clinic and from there they co-ordinate with the Oncology team in Bronglais (Aberystwyth). This is definitely the best option. I opted for Temozolomide over PCV, this was one of the big debates.
Chemotherapy has been truly unpleasant – I'm mostly feeling sick, being sick and suffering from general physical exhaustion. I feel horribly unfit so that even a small amount of exercise leaves me feeling like I've run a marathon so wiped out for the rest of the day and even the next day. I've been very miserable and struggled, there is nothing fun, funny or nice about this and I'd always gone by the rule "if you've got nothing good to say then say nothing at all". Just being miserable is not a fun message.
Some things I want to note but haven't got the time/passion to write up properly.
There was a minor miracle at Bronglais- you can watch telly from the new MRI scanner! It's funny though cos it's upside down (cos of the mirror). And it's not that easy to hear it over the MRI noises. upside down subtitles is quite a challenge.
My menstrual cycle and my chemotherapy cycle synched. now that's just cruel. feel like there ought to be rant here about the gender issues in scientific research (no, women aren't just small men!!)
We also managed a load of cool things this year… Ivy started school (and stopped, and started again), we got some orphan lambs (that was fun), our second Gwalia calf (Dewin) was born, we finished our 1st calf (in the freezer now) and our 3rd calf is due in August!  Dee and I managed three wonderful little trips, once to Tenby (before the Chemo), to the old Butlins Pwllheli (with Ivy)  and once to The Mumbles (for Dee's 40th and, bizarrely, "Beaujolais Day"). And, we've got some exciting business plans afoot so it's not always all about this stupid egg.
I'm also in the middle of writing something to try and explain the answers to the following FAQs
Did it work?
Are you in Remission?
When do you get the results?
(briefly, can't answer that one, not possible, no such thing)
Will be back with that one soon… TTFN xx
(and here's a picture from Dee's birthday trip, it was lovely)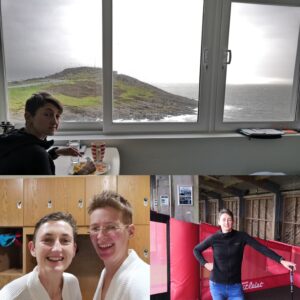 ps a good way of looking at things if you haven't heard me say it already…. of all the years to have to write off  (can't get much done whilst on a year of chemo) I'm feeling really lucky! Everyone else had to write off a year too! Nice solidarity world – Thanks!
pps In case you missed it, I got my Covid Jab in January, I felt very lucky and well cared for and although we're still not going anywhere somehow just a little bit safer too
Also…. My friend Kim died. This is really sad for me.  She used to read this blog and the whatsapp group and send me lovely, supportive messages. We met in London where we worked, socialised, travelled and did crazy hours together at KPMG. We had reconnected over cancer. She had it at the same time as me but hers was a bit ahead and a lot more aggressive. She was full of useful tips on getting through the treatment (including a whole load of "stuff they don't tell you about" advice. We also shared chats on how best to look after our daughters (she left two, they have a very lovely Daddy but it's still heartbreakingly sad), again she was my adviser on this. Sometimes I sent her jolly songs and check up chats, that sort of thing and in one of last conversations she was heading into have radiotherapy to the head so I got my chance to be the adviser. I admired her strength and positivity greatly – she really did face this thing head on with such courage. I'll miss her. If you'd like to read a bit there is an obituary to read here.